Robyn Backhouse
MSc in Computer Science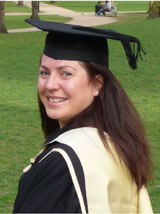 I have enjoyed a successful nursing career for over 20 years, with the last 12 years in Intensive Care and Critical Care Units. I decided I wanted a new direction in my life and was drawn to IT as I had been tinkering with computers as a hobby for some years now and have always been fascinated by new technology, very keen to work in this dynamic field.
I am now working for one of the UK's largest media companies, Trinity Mirror, as a software developer. Developing and maintaining a Content Management System (CMS) whereby the company's editorial staff can easily manage their multimedia content in order to produce flexible, dynamic media websites. I work in a team of 20 people within a larger team of approximately 60 people, all dedicated to running the CMS and dynamic media websites for 5 national newspapers and over 150 regional and Scottish ones.
What made you decide to study for a qualification in computing?
After 20 years of nursing I am halfway through my working life and I wanted a total change of direction. You only get to live once and I want to make the most of it. I wanted the opportunity to learn and experience new things and to face new challenges. I had been very interested in computers and programming for many years and very much wanted to learn more about them and work within the IT sector as it is a fascinating field with so much diversity and endless opportunity to learn and experience new things, as well as providing the opportunity to be involved in advancing new technology. I knew numerous people who worked in the industry and they unanimously said they love it. I felt my best chance of achieving this goal was to study for an MSc as it is a very competitive field to get into and qualifications are important in any profession.
Why did you choose Birkbeck?
I was offered places at 5 colleges but chose Birkbeck due to the strict entry requirements and the high standards of the college. Other institutions did not even ask candidates to interview whereas Birkbeck not only interviewed, but also insisted on a programming test prior to offering students a place. This impressed me very much because it said loudly that they only want students who have an aptitude for computer science and will not just take as many students as they can simply to fill seats and get more money without caring whether the student is capable of completing the course or just wasting their money and time. It showed them to be a very professional institution with high standards and a good reputation to uphold.
There was a lot of information on their website, including C++ programming tutorials from Roger Mitton. Again this suggested they were very professional and organised and they looked like a well established "old" institution who know what they are doing instead of a young college still finding it's feet.
How did your qualification help you in your career?
Without the MSc I would not have been offered my current position. The MSc enabled me to begin a career in IT which would otherwise not have been possible for me. As a middle aged woman with no previous experience in the IT industry I think I would have found it impossible to begin a career in this highly skilled and competitive area, particularly in the current economic climate where so many experienced people are in the job market. It has of course also provided me with the skills and knowledge to actually do my job.. another added little benefit! I don't think I could have learned to do my current job without the knowledge and skills I gained on the course - none of it would have made sense. So really the course made my career possible.
Did your time at Birkbeck help you in other ways?
I enjoyed the course very much and made many good friends along the way. My self esteem and confidence has soared upon successful completion of the MSc, as I had always thought it was something I would never achieve, particularly in an area such as computer science. It's a long way from being a nurse! My life has changed completely due to the course. I have more confidence in myself, and my lifestyle is so different - no more shiftwork and working nights and weekends.. I feel like a "normal" person for the first time since leaving school many years ago. And I have a job that I love. Best thing I ever did.
Which parts of your course were particularly enjoyable or useful?
I have found that pretty much all of the course content has been useful in the area in which I work and it was all really interesting and enjoyable. A sound knowledge of programming concepts and coding is of course essential for a developer as well as database querying and management skills and software engineering principles, but knowledge from all subjects has been necessary for my current position. The course has given me a broad understanding of many facets of computer science, which are all inextricably linked. I don't think I could say any of the modules were irrelevant to a career in this industry. Most enjoyable and interesting subjects for me were Computer Architecture, Cryptography, Maths for Computing, Networks, Operating Systems and of course programming in both C++ and C-Sharp. And I would just like to say - Keith Gibson is a god!!
Further information