Patrick Chamberlain
MSc in Computer Science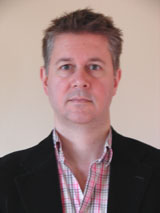 My degree gave me a much broader technical knowledge.
Many years ago I did the first year of a degree in French and German at Kings College London, but never completed it.
I spent the following 20 years as a money market and futures trader at a number of banks in the City. In 1999 the big Japanese bank I was working for closed down. I was made redundant and made a career switch to IT. I worked my way up to being a consultant/developer, and finally a business analyst, for a time series database company. Soon after completing my degree at Birkbeck I started a new job as a business analyst at a large investment management company.
Current position/job
I'm a business analyst at a large investment management company. It's a mixture of a technical and business role around the data hub which supports the investment management business.
What made you decide to study for a qualification in computing?
I'd always been interested in messing around with computers, but it was accompanying my son on an open day at Birmingham University for Computer Science and A.I. that made me do something about it.
At work, it had become difficult to make any more progress, or to get a better job elsewhere, without having a degree. In addition I had gained enough technical skills and knowledge to hold my own at work, but only in a very specific area.
A degree in Computer Science would give me both a degree and a much broader technical knowledge and it was something I was very interested in for its own sake.
Why did you choose Birkbeck?
Birkbeck was recommended to me by one of the Computer Science and AI lecturers at Birmingham University as somewhere that both had a good reputation for AI and offered part-time courses to mature students.
Only Birkbeck could offer me the combination of an interesting course (with a little bit of AI), allow me to continue working full time (essential with a mortgage and 2 children at university). Most importantly, Birkbeck has a very positive attitude to someone returning to full time education after a gap of almost 30 years.
How did your qualification help you in your career?
Not having a degree had not been an issue as a money market trader. In fact when I started out at in trading at a large clearing bank in the late 70s, having a degree disqualified you from working in the trading room.
In IT I found that I was surrounded by graduates, mostly in technical subjects. Within a few years I could hold my own in technical terms from what I'd picked up at work and studying on my own, but I was lacking the breadth of knowledge that some of my colleagues had, particularly those who'd been through a traditional computer science education.
So there were 2 main benefits; my degree gave me a much broader technical knowledge, and having a degree meant that I was no longer disqualified at the first stage from job opportunities.
Did your time at Birkbeck help you in other ways?
It boosted my confidence and forced me to be much more selective in how I spend my time.
Which parts of your course were particularly enjoyable or useful?
What I didn't expect was how enjoyable the whole course would be, so much so that when I came to the end I felt lost and I almost signed up for another course.
I'd like to single out:
Roger Mitton's C++ course for being both particularly useful and particularly enjoyable.
Keith Mannock's object oriented programming source for being particularly enjoyable.
Nigel Martin's relational database course, and the database research essay topic, were particularly useful, being very relevant to my present job.
Keith Gibson's computer architecture course was particularly fascinating.
and finally my project which seemed to take on a life of its own and with Dell Zhang's help almost became a course in its own right.
Further information