Mark Bridge
MSc in Computer Science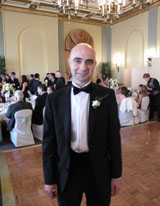 Birkbeck laid strong foundations for a professional career in the industry and the challenges it presents.
The course was very challenging, but working hard and keeping up with the fantastic teachers and researchers at Birkbeck gave me the breadth and depth of knowledge, practical skill and confidence to hit the ground running as a software engineer in an intensely competitive field.
I started as a contractor at AT&T working on what turned out to be one of two winning bids for a multi-billion dollar government contract managing phone services and quickly moved on to work on designs and prototypes for a j2ee electronic delivery verification application at the US Postal Service - one of the world's largest IT/web service infrastructures.
Later working on image processing and secure content delivery for a small startup in internet magazine publishing, I built on what I'd learned about the java api's, learning about the pdf manipulation and cryptography, and built on what I'd learned about C/C++ at Birkbeck by working on open-gl based image manipulation software. I also took part in building out and supporting the hardware infrastructure, utilizing what I had learned about operating systems and scripting to add dedicated image processing servers to the data-centre in this very hands on role.
Following this I moved on to work on the Playstation Network at Sony and built on my java skills - in my first year I successfully architected, developed and oversaw the deployment of a highly scalable and reliable service-oriented java ee software system serving millions globally in a strategically key area and then moved on to help re-write the legacy customer account management and registration system there.
I am now bringing to bear what I learned about databases working with and developing hugely data intensive Cancer Biomedical Informatics Grid (caBIG) applications and solutions in Cancer Translational Informatics at a major medical teaching school - using IT to deliver personalized treatments tailored to the genetic profile of the cancer disease as manifested in the individual.
Birkbeck laid strong foundations for a professional career in the industry and the challenges it presents. Doing the course was one of the best decisions I've made and I would highly recommend it to anyone who wants to make it in the IT industry.
Further information