Jo Tomlinson
MSc in Computer Science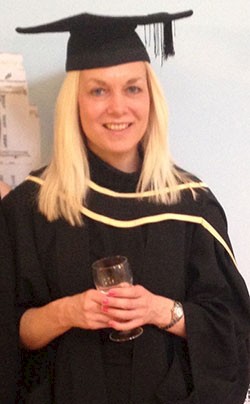 I chose Birkbeck because it allowed me to continue with my career as a Pharmacist during the day, and study for the Masters in the evenings.
I previously had a career as an Oncology Pharmacist for almost 15 years, but became increasingly interested in a career within technology. Now I work for Sky as a Full Stack Software Engineer, building and maintaining the main sky.com customer website; the two careers couldn't be any different!
We work in small teams within a larger team, and so get to move around projects every few weeks if we want to. It keeps us motivated and gives us a broad scope of experience and appreciation of the wider architecture. We work in a highly agile fashion which is great for evolving our products, and means we have lots of agile ceremonies to continually improve our ways of working.
What made you decide to study for a qualification in computing?
I was always interested in technology and wanted to learn more about how to build websites and software. Technology is such a vast area that we rely on more and more, and I wanted to be involved in that. The opportunities are limitless.
Why did you choose Birkbeck?
I chose Birkbeck because it allowed me to continue with my career as a Pharmacist during the day, and study for the Masters in the evenings. Also, the course material gave a firm and broad grounding in Computer Science, and the entry process showed me that the staff cared about whether their students had the aptitude for the course before actually starting it.
How did your qualification help you in your career?
The Masters gave me the broad skills in Computer Science that I needed to start a career in technology. Without it I wouldn't even have passed the assessment centre for my current role. With such a broad range of skills and theory behind me I was able to start my first role using languages and frameworks that I hadn't even learnt at University. I believe that the Masters has set me up to learn any new language that I want, and has taught me good engineering practices to take forward throughout my career.
Did your time at Birkbeck help you in other ways?
I met a lot of new friends and got to network at various university events. I also joined Birkbeck's mentoring scheme and got a mentor at Credit Suisse for my final year of study, which helped me in deciding which area of technology I wanted to pursue and in interview skills and brushing up my CV.
Which parts of your course were particularly enjoyable or useful?
I'd say all of the course modules were useful. It's important to get a theoretical background in Software Engineering, as well as learning to code too. The two elements make for a good all round Engineer, and help you to appreciate what is going on in the background in relation to your code, and how best to optimise things.
Further information